Western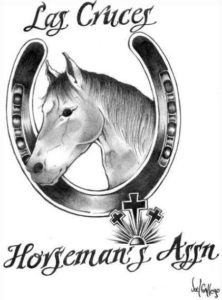 Las Cruces Horseman's Association
INTRODUCTION TO WORKING EQUITATION PLAYDAY:
IS WORKING EQUITATION FOR YOU AND YOUR HORSE?
May 20, 2018
Presented by Sandy Welch
   At Enchanted Horse Dressage
62 Percha Road
 Caballo, NM
Sandy will start with a demonstration of a Working Equitation Dressage Test explaining it as she goes. She will then move straight into a demonstration of the obstacles used in the Precision Obstacle Phase, describing how the requirements in the dressage phase are carried directly into performing the obstacles. Questions will be welcome!
Following the demonstration rides Sandy will help riders in groups of four work through the available obstacles, stressing the correct negotiation of each obstacle. Dressage work will be addressed on request. The dressage arena will be open for riders to ride in.
All riders of any discipline are welcome!!!!
Call Sandy at 575-740-0248 or go to lchanm.us on the Western division page for information to register to ride or to audit.
$25.00 plus $5.00 office fee and non-member fee of $10.00 if applicable.
Click here to go to Photo Gallery
YOU'LL WANT TO BE SURE TO CLICK ON "POSTS BY CATEGORY" AND KEEP AN EYE ON THE "UPCOMING EVENTS" TO MAKE SURE YOU GET ALL THE CURRENT INFORMATION ON EACH DIVISION.   Looking for a free program to open and edit pdf files? Try Nitro – here is the link to the free version
Save
Save
Save
Save
Save
Save
Save
Save
Save
Save
Save