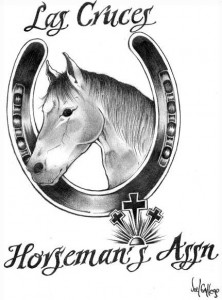 Las Cruces Horseman's Association

sponsors Gymkhanas, Western Horse Shows, the Las Cruces Horse Trials.
Eventing and Hunter/Jumper,
as well as horseback fun days. Members also ride in several local parades. Every year, each LCHA division presents awards to high-achieving members at a special awards banquet.  For nearly 40 years, riders of all ages have honed horsemanship skills and forged friendships through the many activities of LCHA.
  For more information please follow the links below:
YOU'LL WANT TO BE SURE TO CLICK ON "POSTS BY CATEGORY" AND KEEP AN EYE ON THE "UPCOMING EVENTS" TO MAKE SURE YOU GET ALL THE CURRENT INFORMATION ON EACH DIVISION. LCHA is a non-profit organization that promotes horsemanship and sportsmanship in a variety of equestrian activities. IRS granted LCHA a 501C3 Public Charity status on Sept 26, 2007. For more information contact:
Lydia Mabry   575-644-0501       Email: LCHA88001 @ gmail.com

LCHA, PO Box 132, Mesilla Park, NM 88047